On Being 'Mika' – Interview with Mika Kobayashi Embury, our new heritage intern

Welcome Mika to VJLS-JH as the new Heritage Programmer. Could you tell us about yourself? Could you tell us a bit about your family background?
The first and most interesting thing you should know about me is that I have an incredibly long name: Mika Mary-Jean Kobayashi Embury. I'm grew up and live in North Vancouver and have recently come back from the University of Toronto after finishing my bachelor's degree. I majored in French language and minored in human geography and history. I am yonsei, half Japanese, Irish and Ukrainian. Outside of work, I'm learning Japanese through VJLS, rock climbing, and am currently trying to find the best ramen in Vancouver. Any suggestions are appreciated!
What drew you to VJLS-JH and the position of Heritage Programmer?
Through my extracurricular involvement and internship experience at university, I eventually became quite interested in pursuing a career in community programming. It was out of pure coincidence that I randomly came across the Young Canada Works page, where VJLS-JH had a posting for a Heritage Programming Coordinator that was supposed to begin in late July 2020. At first, I was super disappointed to see that I had missed the deadline by several months! The description of the job had literally everything I wanted to be involved in: nonprofit work, developing programs and activities, gaining communications experience, and performing outreach to local organizations and other non-profits. The fact that the organization was Japanese-Canadian based was an incredible bonus. Although I believed that I missed the deadline, I sent an email regardless, expressing my interest in helping out where I could in the future. Not too long later, I was informed that the position had yet to be filled, and here we are!
Could you tell us about your journey as you learn about our organization's story, how this is part of the Japanese Canadian story, and how this relates to you. How you have felt along the way?
Before beginning my work at VJLS-JH, I had a fairly solid understanding of the Japanese Canadian Internment and the history of my own family, the Kobayashi's. My grandmother's (Yoshiko Kobayashi) family was interned in New Denver and my grandfather's family had narrowly escaped the Order, moving from Vancouver to near Salmon Arm in mid 1942. Since starting at VJLS-JH, I've learned more about Japanese Canadian history and the historical significance of the Powell Street area more than I ever thought I would. I feel incredibly in touch with my heritage every day. I even pass by my great grandmother's old house (now Sunrise Soya Foods) before I come into work! Being in this space and realm of work has been an incredibly powerful experience; inspiring me to finally sign up for Japanese classes and become more involved within the community moving forward.
In February, we are celebrating BC Heritage week (Feb. 15-21). What was your reaction when you learned that we are a National Historic Site that joins the National Historic family of Stanley Park, Lions Gate Bridge and the Gulf of Georgia Cannery? How did this change your sense of yourself and what it means to be Canadian?
To be honest, I was pretty shocked to find out that Vancouver Japanese Language School – Japanese Hall had obtained the title of 'National Historic Site'. So, when I found out that this 'title' was on the same level as Stanley Park or the Lions Gate Bridge, I really couldn't believe it. As our community is relatively small; I never conceptualized the idea that something that belonged to the community could be given such a significant title. However, after the initial shock, it quickly clicked and honestly made a lot of sense to me. As a community, I really think we deserve it. The Site holds an amazing story of resilience and commitment to a community that lost everything, and myself and my family have direct connections to its history. Truthfully, I don't necessarily believe that me recognizing the National Historic Site altered my outlook on being Canadian, but it really did emphasize my pride in being Japanese-Canadian.
How would you encourage parents and grandparents to open the dialogue with their kids/grandkids about having a diverse cultural identity?
I would start by exposing them to a variety of cultures and cultural experiences from a young age. This could even be through trying new foods! Or going to cultural events and festivities through their network of friends. By understanding there are many cultures different than your own, there will be more room for discussion about what makes their culture so unique, or even similar to others! But most importantly, it will provide a foundation of understanding and appreciation for what is unique and different from what they know well.
As part of Heritage Week, you are organizing the Bedtime Story event for families to introduce the new graphic novel, "On Being Yukiko". The 2 authors will be reading excerpts from their new book. What do hope children and families will get out of being a part of this online live event?
In celebration of BC Heritage Week, we've organized a live reading of, On Being Yukiko read by Jeff Chiba Stearns and Lillian Michiko Blakey via Zoom on February 18th at 7pm! Jeff and Lillian are two of Canada's most notable Japanese Canadian artists, and they've come together to create an exciting graphic novel that tells an intergenerational story on family history and cultural identity. It's amazing read with beautiful visuals! Through the live reading, I hope that children and families become inspired to explore their own culture, heritage and identity and can hopefully spark some great conversations among family and friends!

Feb. 18, 7 pm. "On Being Yukiko" Virtual Bedtime Story Event (free).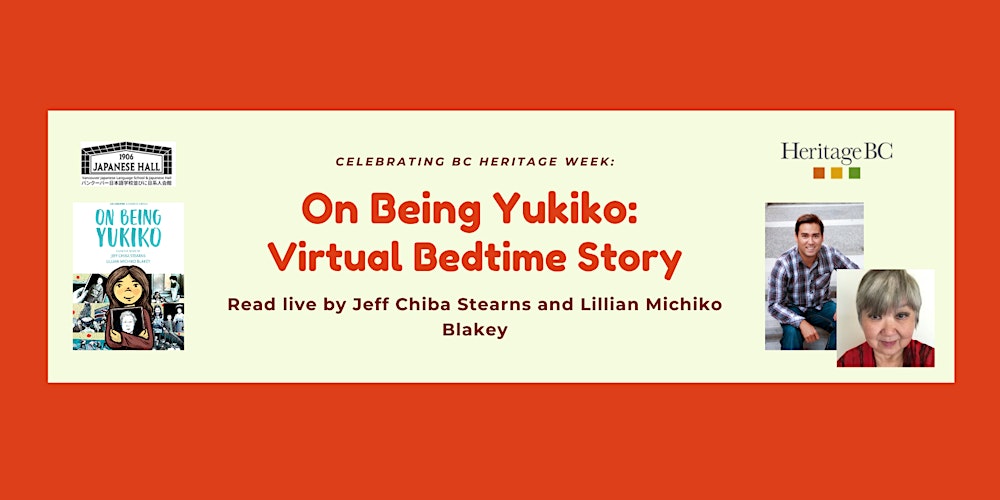 | | |
| --- | --- |
| | Jeff Chiba Stearns & Lillian Michiko Blakey will be reading their new graphic novel, On Being Yukiko live! An event for children & families. |